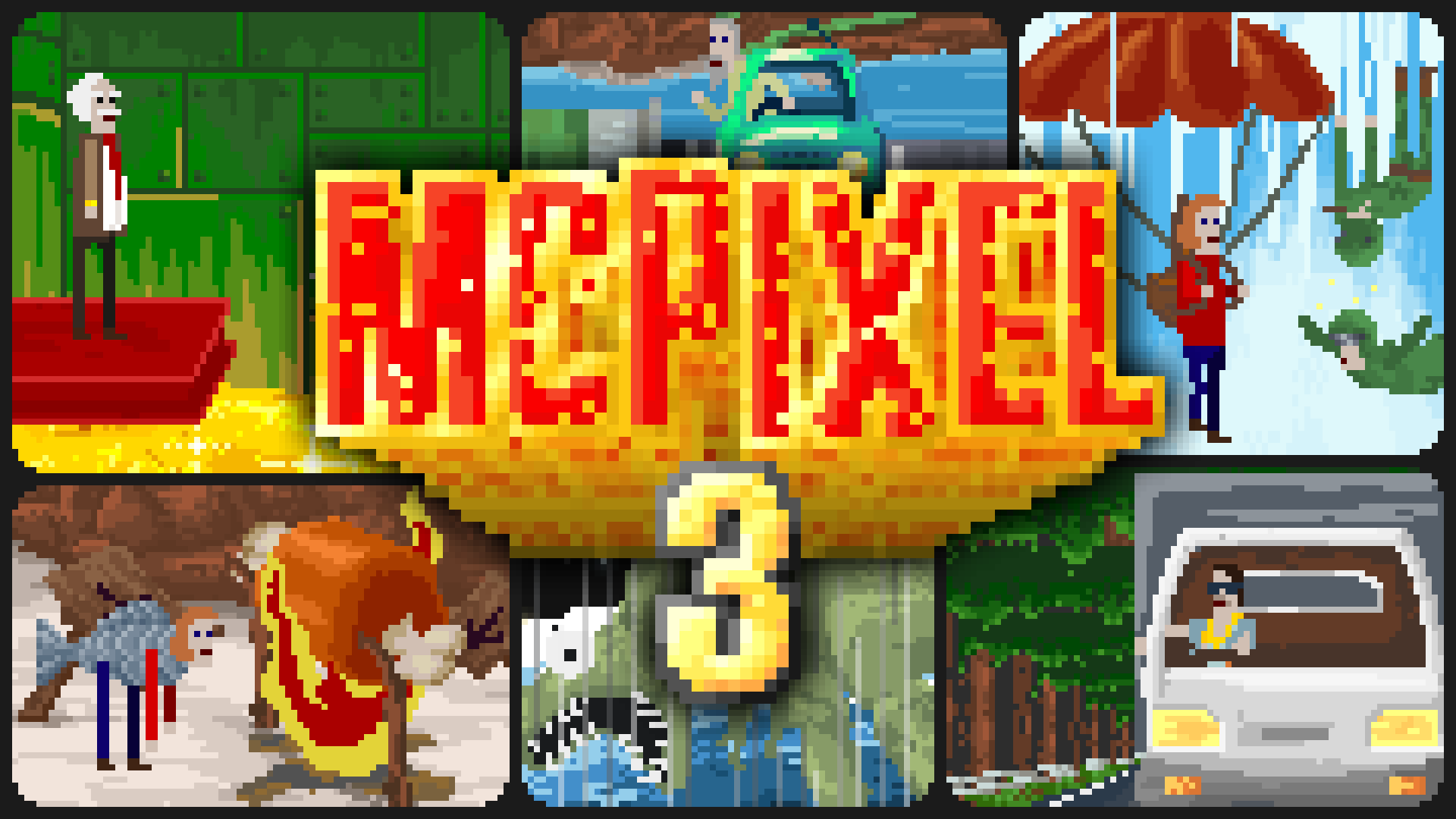 McPixel 3
A downloadable absolute gem for Windows, macOS, and Linux
Is it a bird? Is it a plane? It's falling too fast to be either of those. It's McPixel! A wanna-be hero who keeps getting mixed up in the most unbelievable situations you can imagine.
Levels

One moment you're stuck in a speeding train headed towards the cliff; the other, you're in a falling plane. Sometimes you need to win an impossible-to-win soccer match, and the other, you're a dinosaur trying to hide from a meteorite. Stuck in a flaming house? Sandwiched between two battling armies? Certainly not a problem for McPixel! 100 levels of fast-paced action are waiting for you!
Minigames

Sometimes, the usual adventure style will get interrupted by genre-bending minigames. Ranging from racing, shooting, fighting, and sports to even platforming or FPS! The game offers over 20 minigames scattered around the world of McPixel!
Coins and stamps

McPixel is not all about just saving the day but having fun trying to come up with the craziest possible solutions. And for every solution, you will be rewarded with coins! Find all solutions in a level to get the gold prize and some extra coins! You can use them to unlock new levels! Also, everyone loves coins, right? They're shiny and golden and spinning! No reason not to have some more!
McBurg

The game takes place in the city of McBurg. Explore the city and find different adventures! Some of the paths in the city are blocked and will require you to spend coins to move forward and access new levels! The city will get populated with characters and items from the levels you already visited as you play. You will also be able to don some of the costumes you found while playing.
On the edge of the city upon a grassy hill, you can see a Devolver vault, full of gold, looming over McBurg. So, if you ever need a lot of coins, maybe it's time to pay Fork Parker a visit?
Steve

Sometimes, during your adventures, you will find Steve. Steve can be in the weirdest and most unexpected of places, and finding him will transport you to the Steve level.
Steve is not like McPixel and doesn't specialize in saving the day. He's just some guy, doing stuff. Like fishing, cooking, driving a car, or summoning demons. You know, just the average guy kind of stuff.
McPixel Engine
McPixel 3 runs on 100% software-rendered McPixel Engine, so in the age of unaffordable graphics cards, you can be sure you will be able to run McPixel 3 just fine!
The engine has been written from scratch just for the purpose of running McPixel. That makes the game run smoothly even on the oldest computer, so make sure you install McPixel on your grandma's PC next time you visit! Additionally, that makes the game environment-friendly! McPixel 3 saves the planet (and battery life)!
Key Features:
100 mind-blowing levels
Nearly 1000 hilarious gags to discover
Over 1500 interactive items
Over 20 minigames in all imaginable genres
Over 300,000,000 pixels
Works on your mom's computer
Steve
A water level
---
Minimum System Requirements
Processor: Pentium III 800Mhz / 1.2GHz dual-core ARM
RAM: 512MB
Graphics: 32bit color graphics card (16bit for Win95/NT)
Sound: 44kHz / 16bit sound card required (22kHz for Win95)
Hard Disk: 150MB needed for install
---
Disclaimer
Note that beyond default Windows, Mac and Linux builds, platforms are experimental and will receive limited support. I can't promise they'll run on everything and that all features will be present. If you buy it only for those platforms, do it on your own risk.

I am just one person maintaining all of these and there's only so many configurations and circumstances I can test it on. Old hardware and software can be picky about what works and what doesn't and despite my best efforts I might not be able to make this work on everything! I'll do my best, but can't promise anything!
Some features might be disabled in these versions, they might have limited color spectrum (16-bit, 8-bit or 7-bit even), disabled filters, no controller support or no audio. Additionally, some of the platforms will require additional setup or extra files that I am not able to distribute with the builds.

Platform Notes
By default, builds use SDL2 library, and will probably require you to install libsdl2 package on a Linux system. (most of the binaries are statically linked with SDL2, but installing libsdl2 will pull all the dependencies)
Windows 95
Windows 95 build uses Allegro 4 library, this enables it to use hardware accelerated DirectDraw rendering. the game should work in 16bit color and 32bit color. 8bit color might work too but it won't be too pretty. Joystick controls and filters are disabled. The binary is built for 486 processor, but you will probably need at least a Pentium III to play smoothly. This version uses 22kHz WAV files instead of OGG, and it's the fastest build if you want to play on old computers. Note that fullscreen mode might not work on Windows 10, as it might want to force 16bit color. This is the fastest build for old computers.
There are three binaries with this build

mcpixel95.exe - default binary, will work on everything
mcpixel95_bgr.exe - use this if your colours are inverted
mcpixel95_p3.exe - binary optimised for Pentium III with SSE instructions, should be significantly faster with these processors.
Windows NT
Windows NT build uses native WinAPI calls and WaveOUT routines for audio and will work even on Windows NT 3.51 (albeit poorly) if you provide it with a msvcrt.dll library, that is not present in NT 3.51. This build doesn't support joystick controls, filters and switching fullscreen, to maintain best compatibility. The game should work in 16bit, 24bit and 32bit color depth. 15bit color is not supported. This is the most compatible build for old computers.
There are two binaries with this build:
winpixel.exe - default binary, will work on everything
bgrpixel.exe - use this if your colours are inverted
DOS
This one is pretty much just a novelty, and not much real use, sicne it will require a machine with 512MB RAM (note that DOSBox can only handle up to 64MB RAM). You will need to prepare a couple of things if you want to run it, most of these are provided by Windows 9x, so you can run the DOS version from there for best results, otherwise, you need:
CWSDPMI.EXE - it's free and easy to find, put it in 'bin' directory next to 'mcdos.exe'
MOUSE.COM - A mouse driver - Any driver will probably will do!
DOSLFN.COM - LFN (long filename) driver - Easy to find, and no way around that. You need long filenames to play McPixel 3!
Sound driver - The game should support and autodetect Sound Blaster, GUS and WSS cards. Make sure you ahev the driver loaded and BLASTER variable set
Note that the first three will be provided by Windows 9x if you run it from there. Some Windows sound card drivers also provide SB emulation in case you don't have a compatible sound card.
Download and run this on your own risk. Note that it doesn't seem to work on emulators, but it runs on my physical DOS machine.
Linux Terminal
Linux Terminal build uses ncurses, and will support mouse controls. It requires terminal that supports 32k colors, but the true color depth is 7.5bit (7 bit for odd lines, 8bit for even lines, because terminal eats the eldest bit for blinking). There is no audio, and you need to use P to access pause menu instead of ESCAPE. Also, it will pause with every keypress because ncurses is not really made for games. There is a lot of blue stripes, because the 3-3-2 palette is getting truncated from the lowest bit so it's really 3-3-1, leaving only 1 bit for blue color every other line. I tried truncating red or green instead but it looks much worse than this.

Other platforms
Other platforms, such as Haiku, BSD, and Linux on ARM use libsdl2. The ARM builds should work on most SBC Pi-style computers. (can't promise anything, tho, I don't have all of them! Let me know if you get it to work on things!). Make sure you have libsdl2 package installed, as some of the builds are statically linked while others are not. Haiku build somehow requires to be launched from the terminal, but I don't know enough about this system to go around that. Also, if your system does not have an accelerated graphics card working, it's gonna be very slow (the "final step" of scaling the game graphics onto the screen on CPU can be very demanding to memory bandwidth, especially on SBC computers)

Let me know if you'd like me to make a custom build for you. I'll see what I can do!

Purchase
In order to download this absolute gem you must purchase it at or above the minimum price of $9.99 USD. You will get access to the following files:
McPixel 3 - Windows 11/10/8.1/8/7
131 MB
McPixel 3 - MacOS - Universal
135 MB
McPixel 3 - Linux - x64
134 MB
McPixel 3 - Linux - i386
129 MB
McPixel 3 - Windows 95
68 MB
McPixel 3 - Windows NT 4.0/NT 3.51
130 MB
McPixel 3 - Linux - armv7
125 MB
McPixel 3 - Linux - aarch64
129 MB
McPixel 3 - Haiku - x64
127 MB
McPixel 3 - BSD - x64
125 MB
McPixel 3 - Linux Terminal - x64
129 MB